Continuous Compliance
A Piece of Mind for a Digital Business
Imagine the transformation of your routine Compliance audits into a Proactive process. Being able to collect data from all the SaaS, IT and OT assets and gain real time insight of Compliance status on every regulatory standard. Costs are fixed, and you are not limited to a number of users, assets or gigabytes a day. We can make this a reality for your business and get everyone involved in the process.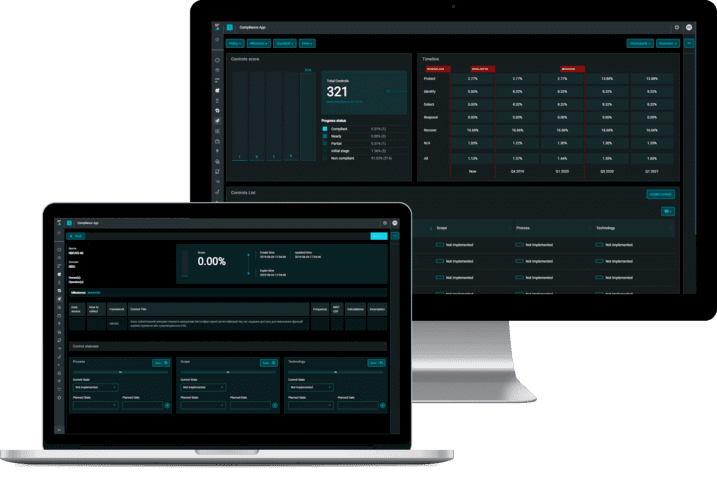 One App for 20+ Standards & 170+ Controls
A unified view for NIST CSF, GDPR, PCI DSS, SOX, HIPAA, ISO and many more standards with full workflow tailored to drive Compliance forward. Ability to plan ahead for major events like annual external audit and schedule daily, monthly and quarterly tasks across business units and distributed teams. Full audit trail on manual and automated actions. Over 170 controls designed according to CIS Top-20 Critical Security Controls geared for continuous automation of compliance controls. Full role based access controls capabilities and performance to provide insights in milliseconds. Easily extensible to new data sources, controls and policies, customized dashboards and reports, alerting over Slack and email by leveraging Elastic stack. Enable Continous Compliance with a single app.
Kickstarting the Continuous Compliance for Banking
My team is responsible for the cyber security for one of the largest banks in the country. We are defending 275 branches and 1050 ATMs, for about 2 million customers, 165k SME's companies and 2.2 thousands large corporate companies. And Security Requirements follow hand-in-hand with duties of Compliance department. SOC Prime has been a good partner for us for many years and I am very excited to apply their know how to transform how we do Cyber Security Compliance. Think of this as an Agile practice of software development applied to Automate Controls across all regulatory standards. The solution helps to interconnect PCI DSS, GDPR, Top 20 CIS CSC, NIST CSF and ISO27001 as one single management framework. It is delivered as open-source application with Enterprise support on top of Elastic stack. We can draw any Dashboard and Report using Kibana, Automate many of compliance controls leveraging Sigma rules. We can have as many people involved as we want with clear planning, delegation, transparency and real time performance. Cost model is aligned to our digital reality, we are not charged for users, assets, IP count or data volumes. Initial deployment of the application with functional dashboards and workflow ready to start the project was performed in less than 24 hours, the product is evolving at a blazing speed and SOC Prime team provides world class support. I am excited to lead this ongoing transformational project and contribute to the evolution of Compliance as a Code.

Maksym Iashchenko, CISO of JSC UKRSIBBANK.
JSC UKRSIBBANK is part of BNP Paribas Group, the world's 8th largest bank by total assets
Automate Controls for Real Time Visibility
Automation of security controls validation at scale is now a simple task with the help of Sigma rules. Sigma, a cross-platform vendor agnostic rule format for SIEM systems is already a de-facto standard for Threat Hunting queries supporting over 14 different backends. And it was only logical to extend its use case to compliance. By creating control automations in Sigma we assure that they are re-usable worldwide and platform agnostic. And to enable real time visibility we run the controls on top of Elastic stack with response returned in milliseconds. Leverage every IT, OT and Security technology you already have by tapping into their telemetry and signal data in real time.
Reliable, Transparent and Efficient approach
Consolidate all the latest standards, controls and data in one solution, with a fast mobile and desktop web UI powered by the Elastic stack. Deploy the solution as SaaS in Elastic Cloud, your own cloud on AWS and Azure, run it on-premise in air gapped environment or go hybrid. Pivot between Executive Dashboard, Compliance Milestones, upload and Manage Policies and drill down to exact details on Controls success and failure rates, asset lists and related tasks. Know exactly which areas of NIST CSF are adddressed today, how this will change over next quarter and which gaps your team has to address. Instantly cross-link these insights into PCI DSS, GDPR or ISO27001 or zoom in on technical aspects of implementation using the Top-20 CSC by CIS. Use the app as a CRM for Compliance or take it to the next level by integrating data of all major SIEM, Vulnerability and Compliance solutions, CMDB, SaaS, AV and EDR. All of this without paying license fees for GB/day, CPU cores, users, IPs or assets. Maximize your team involvement in making the business more secure without imposing cost or performance limits on anyone. And if you are already using the Elastic stack, the deployment is as easy as adding a Kibana plugin.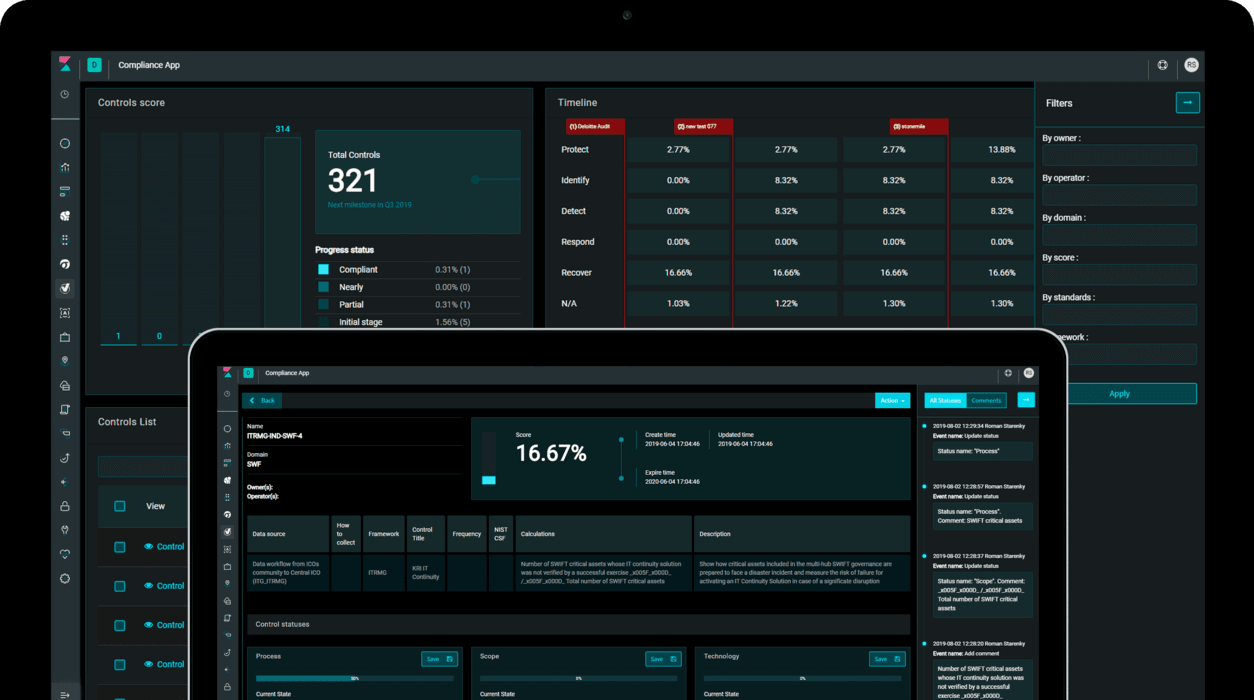 Powered by the world's largest security marketplace
Compliance is a reflection of the Cyber Security. And evolution of digital technologies and threats requires a continuous update of the underlying logic, security rules, data parsers, compliance control validation queries. This is why SOC Prime has built 1st in the world cross-platform Threat Detection Marketplace. Used by 5000+ companies, 13800+ users in 156+ countries it is the biggest security content repository in the world with new content available daily. Backed by centralized QA, SOC Prime Enterprise support and Threat Bounty program lead by 60+ developers and security researchers from 20+ countries. Best part? You can get started with community access for free. Check it out.