Predictive Maintenance™
Save Your Reputation and Budget by Fixing Data Quality Problem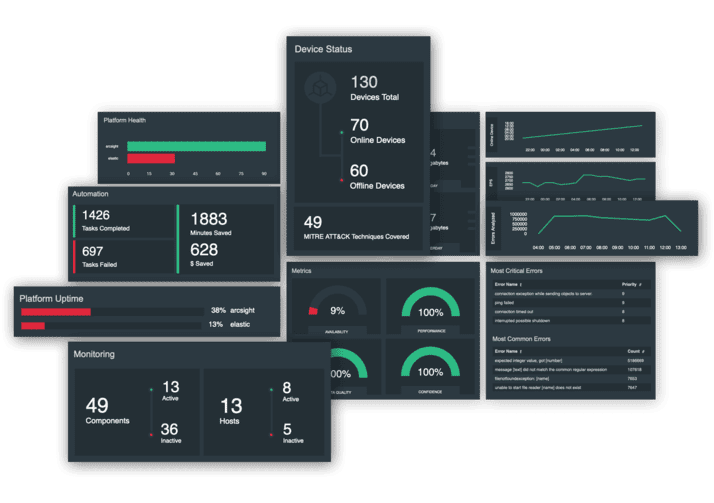 Cyber Breach is an outcome, Bad Data is the root cause
Cyber Breaches happen due to lack of people, process and essentially due to lack of the right data at the right time. Having a SIEM, Log management or even a Security Analytics tools with Machine Learning features in place does not guarantee accurate incident detection. Reality is that every analytics system brings structure to data to enable analysis. And every data scientist knows that good data quality is essential. Global talent shortage problem makes it difficult for any company to keep up with the challenge as we strive to collect more data to detect cyber attacks. By adding logs, netflow and SaaS telemetry we inevitably explode consulting, FTE and storage costs.
Costs
Risks
Operations
Growing Costs for Wasted Storage
Wrongly Trained Machine Learning
Broken Reporting and False Metrics
Major Gaps in Threat Detection
Automated Response Goes Wrong
Costs
Risks
Operations
False Negatives in Detection
High Forensics and Audit Bills
Costs
Risks
Operations
Alert Fatigue for Analysts
False Positives in Investigations
Missing Essentials Alerts
Business Value Unlocked by Predictive Maintenance
SAVE COSTS ON DATA STORAGE AND LICENSES
Collect and store only the data that has value for security operations in your organization. Account for every device, SaaS application, network packet or event id and keep the garbage out. Outcome is measured in terabytes or petabytes of saved storage space.
Maximize Threat Management Capabilities
Know exactly which data you need to address the threats relevant to your business. Be empowered by the knowledge of every possible detection, derived from the world's largest threat detection marketplace. Achieve real time Data Quality alignment to MITRE ATT&CK.
Keep your Engineering Team Happy
Reading each error for every log ingested gets boring fast. Predictive Maintenance does it for you. It provides SIEM administrators with actionable high quality alerts, knowledge base to learn on the job and a breather of delegating routine tasks to automation.
Make Data-driven Decisions on Your SOC
Account for every reporting device, service, log source, API, host and SIEM component in real time. Focus your team efforts on data that matters. Benchmark your teams progress, set goals and automation priorities with actionable metrics.
Powered by the Elastic stack
Licensing Fit for Big Data Era
Efficiency on every level. Predictive Maintenance is licensed as an affordable subscription model, agnostic of EPS, GB/day, IP's, assets or users. No double or triple taxation on collected data. Augment your team with Virtual FTE that is always ready to help with routine tasks.
How much virtual FTE is right for me?
Our experience of solving the Data Quality problem for Fortune-100, Forbes Global 2000 and MSSP organizations shows that required vFTE can range from 0.5 to 5. For optimal cost efficiency and maximum positive automation outcomes we would need to discuss the data volume, HLD design and uptime SLA requirements of your current Security Analytics or SIEM solution. Your ROI is our priority.
Supported Security Analytics and SIEM platforms