Lightspeed Content Delivery with Hyperdrive
Boost your cyber defense capabilities in less than 2 weeks with the Hyperdrive add-on to your active Threat Detection Marketplace subscription. Hyperdrive enables your organization to take threat detection and response capabilities to a new level from point A to point B by establishing the process of continuous cyber defense tailored to your business needs and threat profile without paying for extra co-managed services.
Schedule Call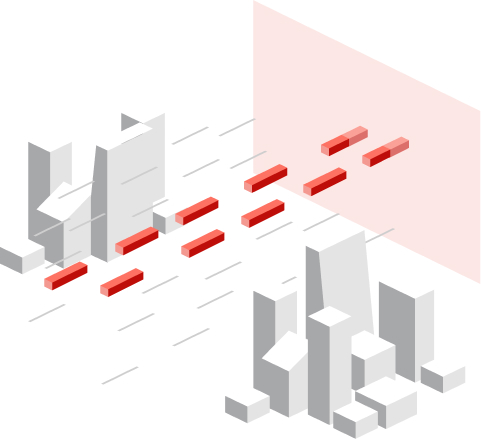 Content Delivery Challenges
Organizations are always looking for ways to enhance their internal cybersecurity capabilities by sourcing content for security monitoring. They usually do this in one of three ways, all of which bring challenges:
Build SOC content with the help of in-house Content Developers
A growing number of threats leads to an increased burden on SOC teams having to spend more hours on research and development of custom detection content.
Implement SOC content delivered by SIEM vendors as part of their solutions
Full reliance on the specific SIEM solution poses a challenge to implementing content beyond what is offered with the tool and aggravates migration to another environment.
Outsource to third-party SOC content vendors and MSSPs for co-managed services
Developing custom content addressing organization-specific characteristics and providing its continuous support is a time-consuming and costly process.
Solution & Benefits
With Hyperdrive, the SOC Prime Content Development Team backed by 300+ Threat Bounty Developers prioritizes your organization's content needs covering use cases most relevant to your business. Boost your cyber defense leveraging your own security tools and best-in-class support delivered by the SOC Prime Content Team in one add-on.
Fast-Tracked Content Delivery
Development of customer-specific SOC content in less than 2 weeks:
Rules and rule packs
Parsers and configs
Machine Learning models
Incident Response Playbooks
SOC ready dashboards and reports
Enhanced Content Support
Continuous content support according to an agreed SLA:
Initial configuration and deployment
Fine-tuning
Content updates
Transition of customer-specific use cases to a different environment
Accelerated Cyber Defense Capabilities
Guaranteed journey from point A to point B:
Continuous cyber defense applying your own security tools
Affordable, fast-tracked, and high-quality content delivery and support instead of paying for extra professional services
Expert Training Sessions
Smooth content onboarding backed by regular training sessions:
Training in content deployment and customization hosted by experts in your SIEM, EDR, or NTDR technologies
Live demos upon request
Extended documentation support
Use Cases
Proactive Exploit Detection
Proactively defend against critical vulnerabilities and exploits leveraging your SIEM, EDR, or NTDR solutions in use. Sigma rules tagged with "CVE" or "exploit" Content items that belong to the "RED Tests" content type
Cloud Security Monitoring
Receive continuous cloud security monitoring for the most common SaaS, IaaS, and PaaS solutions. Content items with the IaaS, SaaS, or PaaS data source or including Cloud products within the content name or content body
Microsoft Active Directory Security Monitoring
Keep track of security events in the areas of access control, user management, detect service issues, DNS errors, and authentication failures across your AD domains. Content items related to the Azure Active Directory (AD)
Threat Hunting
Keep your threat detection capabilities up to date with the latest content mapped directly to MITRE ATT&CK® and covering TTPs used by APT groups. Content items for Threat Hunting and tagged with "APT"
Automated Compliance Controls
Maintain cyber security compliance and automate controls across the most popular regulatory standards, including NIST CSF, GDPR, and PCI DSS. Content items that belong to the "Compliance" content type
Add-On License
Hyperdrive is now available as a separate add-on license to the company's active Premium subscription tier. Contact
sales@socprime.com
for more details.
Streamline Your Cyber
Defense Capabilities
Still haven't tried the Threat Detection Marketplace Premium subscription? Choose one of the paid subscription plans to take advantage of the high-quality SLA support and expert interactions addressing your most pressing SOC content needs. Sign up or log in to the platform to pick the plan that best matches your business needs.
Get Started