SIEM audit with MITRE ATT&CK coverage
---
SOC Prime is the only Threat Detection Marketplace where researchers monetize their content to help security teams defend against attacks easier, faster and more efficiently than ever. Powered by its Detection as Code platform, SOC Prime curates the most up-to-date Sigma-based threat detection content from over 300 researchers and natively delivers it via subscription to 20+ SIEM and XDR platforms to more than 6,000 enterprises, governments, and MDRs worldwide.
Founded in 2015 by security analysts and SOC practitioners, we have built the platform to help companies establish basic security practices, improve threat visibility, and advance automated incident response. Our technology helps enterprise, government, MSSP and MDR providers overcome the challenges of the global talent shortage, threat complexity, alert fatigue, data quality, and cost efficiency. We serve Fortune-100 and Forbes Global 2000 enterprises as well as government organizations by providing a platform for global collaboration, open source technologies and the highest level support.
SOC Prime helps customers centrally source and support content to maximize the value of their existing security investments. Our Threat Detection Marketplace contains more than 130,000 detections aligned with the MITRE ATT&CK framework and continiously updated.
Our team is diverse and distributed, comprising seasoned security experts with 20+ years of experience in the industry, creative designers, multilevel software developers, young and ambitious security researchers, analysts and business leaders. We strongly believe that cybersecurity is one of the major challenges for humanity and can be improved by open source, knowledge sharing, and a performance-driven culture.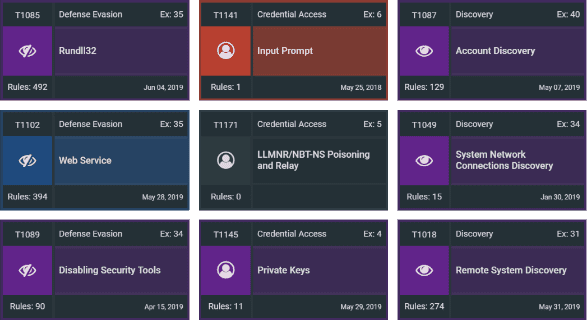 FUNDAMENTALLY DIFFERENT EXPERIENCE, NOT CONSULTING
Our delivery methodology is open, backed by the cutting-edge technology. We provide an automated audit of your SIEM deployment combined with manual review by our seasoned Threat Hunting and Incident Responce Team. Deliverables include executive and technical reports as well as detailed spreadsheets structured per ATT&CK Tactics. Reports outline gaps in log sources, data quality issues, detection rules coverage, and recommendations to address them. Links to recommended community and exclusive SIEM content are included for: correlation rules and queries, Sigma rules, SOC ready dashboards, and Machine Learning models.
Maximize the outcomes at groundbreaking speed
We received an extensive audit of our massive SIEM installation including hundreds of log collectors and tens of thousands of devices within 3 business days. Every log source issue was covered with solution provided. No other vendor we talked to in last 24 months could propose anything that is even remotely close. Outstanding work.

Information Security Manager, Fortune-100 international company with 50,000+ employees.
Automation that scales beyond borders
Our core technology performs automated analysis of the Elastic stack, ArcSight, QRadar and Splunk deployments and compares results with MITRE ATT&CK taxonomy. Afterwards our security experts build the coverage for Threat Actors, Tools and Techniques by mapping the specifics of your SIEM deployment to the world's largest SOC content repository, the Threat Detection Marketplace. This is done in a semi-automated fashion to assure that important details are not missed. On-site delivery is available in the US by SOC Prime engineers directly, in the UK by our strategic partner Satisnet. Remote delivery is available worldwide. The scope is flexible: go as focused as verifying particular Actor or Tool hypothesis or dive deep on each Tactic and Technique on every log source you have.
SIEM vendor content is good, but only to get started
Some of us have been on the SIEM journey since 2002 and today our team cumulatively has 300+ years SIEM experience. And this is exactly whe are not creating yet another SIEM product, but focus on fundamental challenges of algorithm imporvement and data quality. The service coupled with a look and feel of our products will help you to explore the coverage, expose the gaps and have a practical plan to address them. If you wonder on where exactly SIEM vendor stock content has its uses and limitations we highly recommend exploring the relevant blog post by Anton Chuvakin at Gartner blog: https://blogs.gartner.com/anton-chuvakin/2015/12/02/starting-a-siem-project-from-vendor-use-case-content-win-or-fail/
Technological advantage to Upgrade to NextGen SIEM
We are ready to help you with vendor-agnostic and transparent insight into your SIEM and Threat Hunting operations already today. And if you have a SIEM migration project coming up to consolidate different technologies or move to the Next Generation SIEM we can support you on that challenging journey. An audit may be a starting point, yet bigger advantages will be realized by migrating and refactoring the SIEM content you have in place to the new platform, without losing a moment of visibility. We have a proven track record of delivering such capabilities to Fortune-100 and Forbes Global-2000 companies in the US and in the EU. SOC prime is focused on improving your cyber defense capabilities, let's do this together?